I Love GALILEO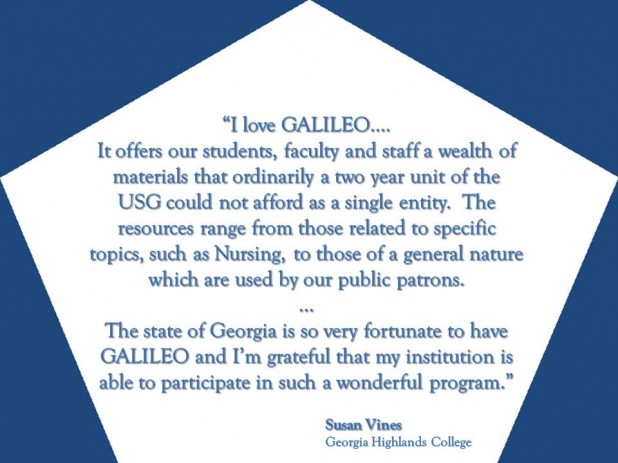 Download
---
Description
Susan Vines, Assistant Librarians for Public Service at Georgia Highlands College, says, "I love GALILEO…. It offers our students, faculty and staff a wealth of materials that ordinarily a two year unit of the USG could not afford as a single entity. The resources range from those related to specific topics, such as Nursing, to those of a general nature which are used by our public patrons.
From a personal perspective, I've used GALILEO in preparing for bibliographic instruction classes, teaching Freshman Experience classes, classes that I've been enrolled in, assisting our own faculty, staff and students with their research, and "walk-in off the street" patrons who need a variety of information. It has saved me tremendous amounts of time, and the research results are always useful.
The GALILEO support team is also amazing. When problems occur they are fast to handle them. They are also constantly looking for ways to improve the availability, increase volume and maintain the usefulness of resources. As a librarian, it can be challenging to guide patrons to the best resources, but luckily, the support team offers continuing education webinars on a regular basis that help keep us all up-to-date on the database offerings and upgrades.
The state of Georgia is so very fortunate to have GALILEO and I'm grateful that my institution is able to participate in such a wonderful program."
---
Contributor
Vines, Susan
Georgia Highlands College
Rome, Floyd, Georgia
---
More like this